Artist Nicholas Thompson recently put his pencils, paints and macplus in the shed. There they sit. If anyone wants pencils, paints and a macplus come visit. Now Nick's works are strictly digital.
After years of many visits to Finland and neighboring Russia Artist Nicholas Thompson recently brought home the best souvenir of all time, his lovely new wife Svetlana.  They live happily in Barnstable Village on Cape Cod, MA with there new born daughter Ekaterina. Every few years they make the trip to the family's wooded dacha in northern Russia. Nick is also still a piano player, sometimes putting on his suit and playing solo in a local Saloon.
This is how Nick looked when The New England Patriots won there fourth Superbowel.
Nick's digital paintings are dedicated to his late mother: Mary Okes Thompson / 1922-2005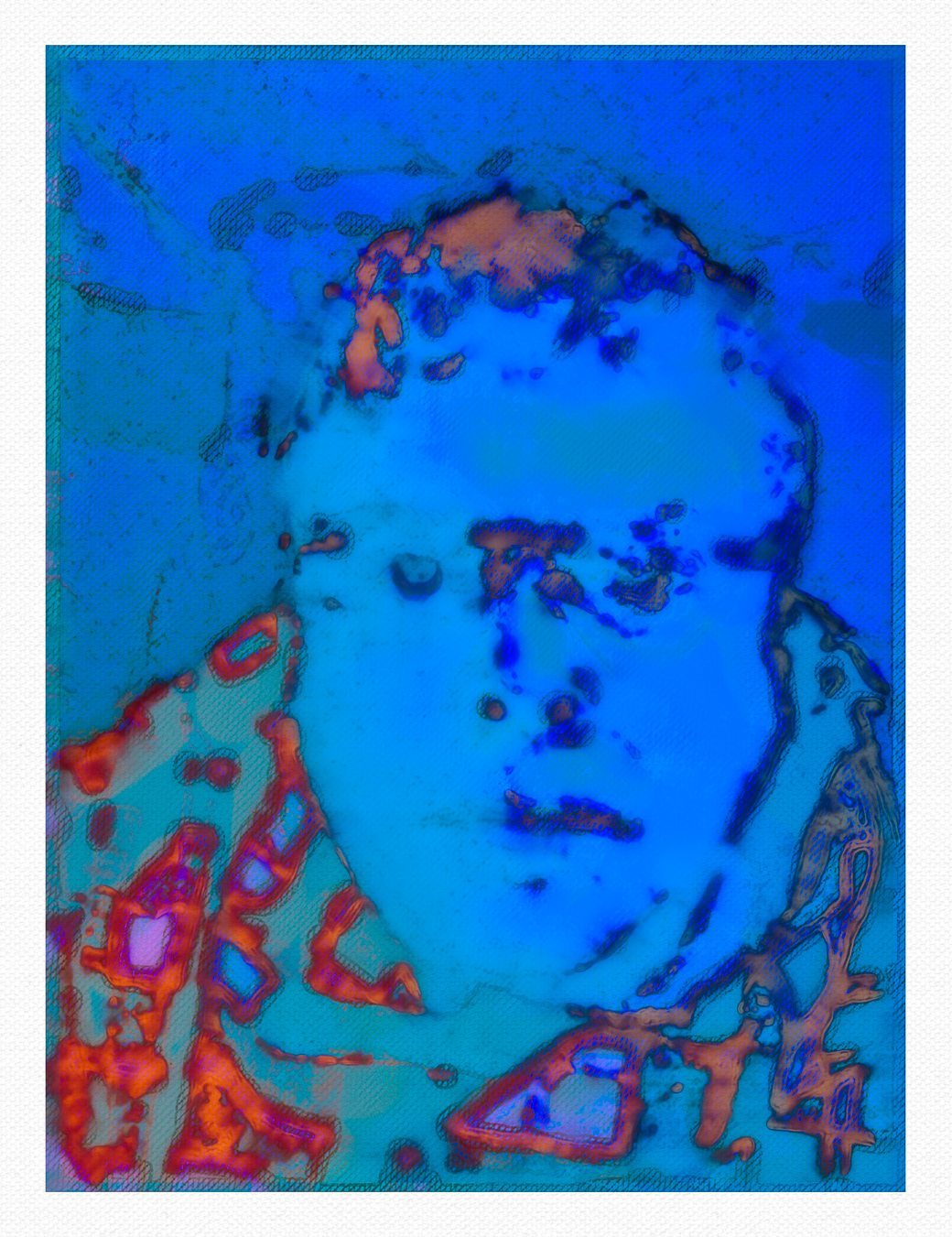 More about Artist Nicholas Thompson
(by Arlene Simon)
Artist Nicholas Thompson has been drawing, doodling and playing the piano for as long as he can remember. Nicks latest drawings & photo's can be seen on his Visual Blog.
"Nicholas Thompson is not an architect, but an architectural artist turned digital fine artist creating unique and daring artwork. Brilliant colors in great abstract forms start as exquisite photography then digitally altered to express his vision.  Originally trained as an illustrator at the Rhode Island School of Design, Nick's lifelong passion for art was fueled by an upbringing and early career that most artists could only dream of.
As the young son of AIA Gold Medal Architect Benjamin C. Thompson, life was unconventional in the family's Harvard Square home because important clients or photography crews from publications such as Look and Life magazines were often expected at the house.  Nick experienced his first brush with national exposure when his dad hung the teenager's newest painting on a prominent wall just before one of these crews arrived.  The sheer joy and sense of accomplishment was a life changing experience for the 16 year old.
Nick was gifted with countless opportunities to mingle with renound architects, designers and dignitaries like Julia Childs, Jacqueline Kennedy Onassis, Walter Gropius, Steve Jobs, and Armi Ratia, founder of Marimekko Oy.  (for years Nick was his neighbor author Kurt Vonnegut's boston whaler & sunfish keeper) – Many encounters occurred while working at his father's groundbreaking lifestyle retail store in Cambridge, Design Research.  During this time he struck up a friendship with Armi, the creative force behind the avant guarde Finnish textile company and regular visitor to the Thompson home.  Her artistic presence and use of bold, bright graphic textile prints heavily influenced Nick's artistic style, leading to his eventual success as an architectural artist.
Recognizing Nick's interest and talent, Armi invited him to Finland during his summer breaks from college.  During one of his visits Nick experienced another pivotal moment when he was asked to create several designs for Marimekko.  This success became another step towards a long, award winning career as the primary architectural artist for his father's famous architectural firm, Ben Thompson and Associates.
Nick was a young man in his 20's when he joined his father's architectural practice as his assistant, later becoming manager of BTA's slide/photography archive and presentation department.  When Ben travelled the world, Nick often accompanied him as a close confidant.
Nick's big commercial breakthrough occurred while BTA was working on the redevelopment of Ghiradelli Square in San Francisco, a revolutionary, adaptive re-use project for retail shops and restaurants.  His original graphics and signage for the project garnered huge visibility, kickstarting his career as designer and true artist.  He eventually became the BTA associate for architectural art and the only in-house graphic designer for many of the firm's largest architectural projects.
The momentum continued with his participation in another California project– the redevelopment of Century City Marketplace in Los Angeles from an underutilized, rundown mall into open air shops and restaurants. Here Nick designed giant tile murals for the exterior with motifs that were carried over to the project's interior.
For the next 10 years Nick designed tile graphics, signage, interior motifs and carpet designs for many BTA projects around the world including Union Station in D.C.; Broward Center for Performing Arts in Ft. Lauderdale and Jacksonville Landing, both in Florida; Pier 17 South Street Seaport and Fulton Marketplace, both in NYC; McWhirter's Marketplace in Brisbane, Australia plus projects in Mexico and Kuwait.
Nick's non-architectural, hugely scaled graphic elements were a powerful reflection of his father's principals regarding the creation of 'places for people'.  His imagery contributed to the humanity of these projects with whimsical, oversized designs of animals, flowers, food, fish and abstracts.  He holistically integrated nature and ornament, exposing the general public to sophisticated, artistic environments."
A FEW OF NICK'S DESIGN PROJECTS done with: BENJAMIN THOMPSON & ASSOCIATES / CAMBRIDGE, MA
Harvest Restaurant / Cambridge, MA
menu art, signage, glazed tile mural
Landmark Inn Restaurant Complex @ Faneuil Hall Marketplace / Boston, MA
Menus, murals & signage
Strawbridge & Clothier Food Hall / Philadelphia , PN
graphics & signage, tile mural
The Pavilion at the Old Post Office / Washington, DC
project graphics & signage
NYU Law School Library / New York City, New York
custom carpet design
The Jacksonville Landing / Jacksonville, FL
decorative hanging signs
South Street Seaport / New York City, NY
logo design (First Place, Waterfronts Centers National Logo Design Contest)
South Street Seaport / New York City, NY
logo design (First Place, Waterfronts Centers National Logo Design Contest)